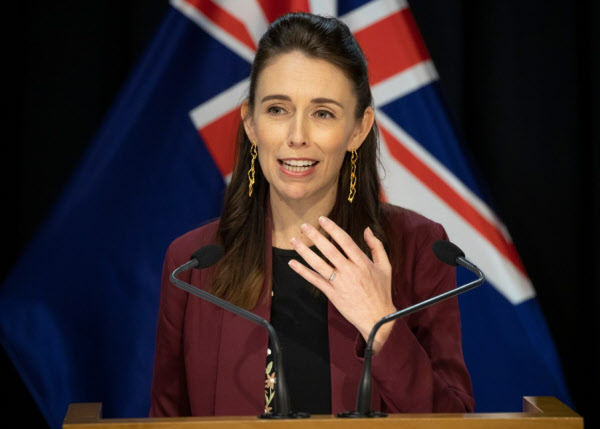 New Zealand, which has maintained a strong homeland blockade and a travel ban for more than a month since last month, has declared an end to the Corona crisis.
According to BBC and CNN, New Zealand Prime Minister Jacinda Ardern said in a press conference on the 27th (local time) that the coronavirus had been "removed at this time." Accordingly, the "four-stage" Corona alert issued to all New Zealand territories will be lowered to three levels as of 11:59 p.m. on the same day, and non-essential workplaces and schools that have been suspended will also be gradually opened from Friday. New Zealand is scheduled to decide on additional measures, including the lifting of restrictions on movement, on April 11.
Based on the U.S. Johns Hopkins University tally, 1,469 confirmed cases and 19 deaths have occurred in New Zealand so far. On the 26th, the number of newly confirmed patients decreased to one. Foreign media say this is due to a strong blockade of the country and a wide range of Corona prosecutors. In New Zealand, which has a population of less than 5 million, 129,320 tests have been conducted. It is 2.4 percent of the population.
However, the local government does not rule out the possibility of re-proliferation, and appeals to most people to stay at home and avoid all social contacts. Ashley Bloomfield, secretary general of New Zealand's Department of Health, said, "Removing corona means that there are no new confirmed cases, and we don't know where other confirmed cases will come from." Prime Minister Ardern said, "We want to reopen the economy, but it's not people's social life."
In the meantime, New Zealand has been under a strong containment policy since last month when the spread of the Corona regional infection began in earnest. New Zealand closed all borders and banned foreigners from entering the country. It imposed mandatory quarantine measures on all citizens who returned to their countries. It has also imposed closures on all offices, schools and restaurants since April 26. Unlike other countries such as the United States, it was not possible to order delivery or packaging at restaurants.
Source: https://www.cnn.com/2020/04/27/asia/new-zealand-elimination-coronavirus-jacinda-ardern-intl/index.html
http://news.chosun.com/site/data/html_dir/2020/04/28/2020042800519.html