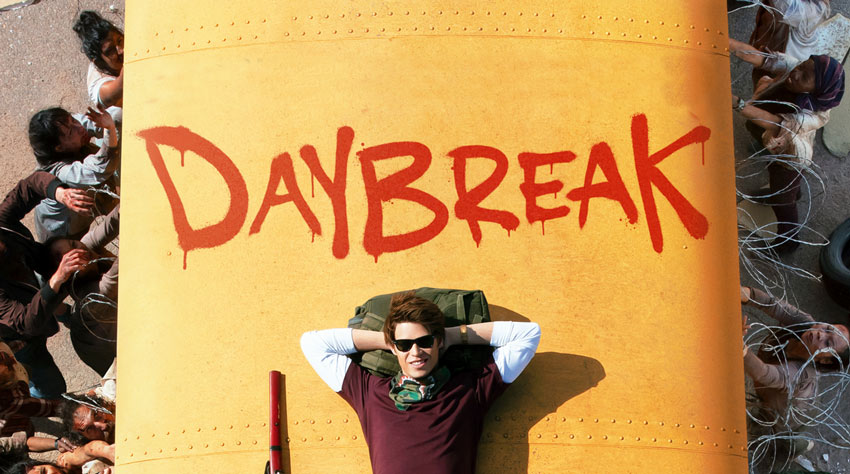 Image source: https://www.criticalhit.net/entertainment/daybreak-review-a-for-apocalyptic-effort/
Netflix continues to employ media disruption with its fictional podcast launching this November 7th. The global streaming enterprise is branching out beyond their original series, and concurrently, expanding their own novel programs further with extra content. Daybreak, a new apocalyptic zombie show, launched just a couple of weeks ago as a Netflix original. Now, this podcast will further add to the world the creators have built by depicting a group of teens who make a podcast in the same universe Daybreak takes place in.
This serves a variety of benefits, especially for huge fans. It's also once again an avant-garde direction no streaming service (at least that I know have) has shot for before. I believe this move, if successful, will motivate Netflix and other streaming services alike to add similar bonus content in other media forms as well. This could possibly be a way for show makers to add more context to their shows which in turn will enrich the original narrative.
This reminds me of the podcast series that spawned from Xbox's staple series Halo 5. I'm not quite sure of its success, but I know a good number of dedicated fans tuned in for the episodic series that accompanied the video game.
Though, I could see a potential downfall with one company trying to do too much. The reviews aren't looking super great at the moment for Daybreak, with a 6.8/10 on IMDb. A potential problem would be if Netflix dedicated too much time to try and have both the show and podcast working well concurrently, and ultimately delivering a lackluster product on both ends.
However, I'm optimistic for their future, and Netflix continues to prove its ability to be original in a digital age saturated with derivative content.
Source material: https://www.theverge.com/2019/10/31/20942754/netflix-scripted-the-only-podcast-left-spotify-daybreak-release-date